Verein zur Anregung des dramatischen Appetits
Društvo za vzbujanje dramskega apetita
Associazione per il Risveglio dell'Appetito Teatrale
Society for whetting the dramatic appetite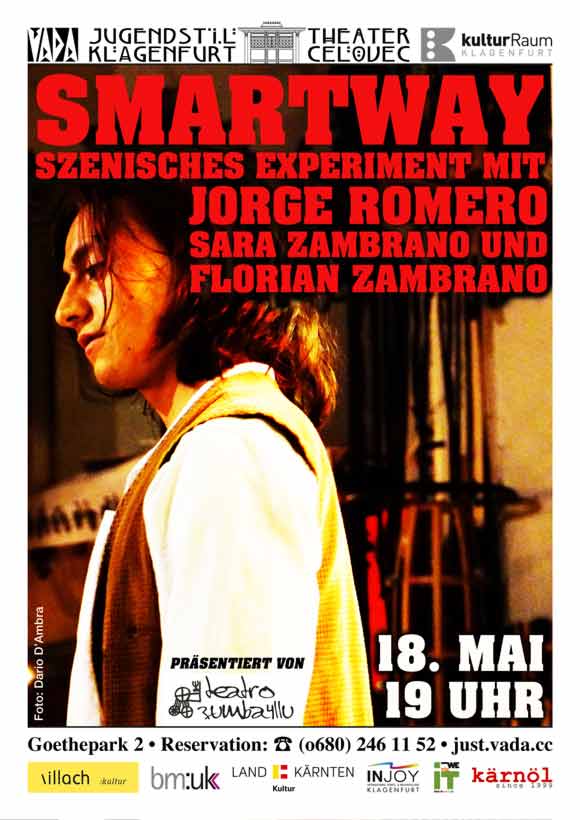 Working for the Development of Humanity...
Through the self-sacrifice

Szenisches Experiment mit
Jorge Romero Mora
Sara Zambrano
Florian Zambrano

präsentiert von teatro zumbayllu




JORGE ROMERO MORA

: Schauspieler, Regisseur & Dramaturg aus Kolumbien. Studium der Szenischen Künste an der Universidad Distrital FJDC in Bogotá und an der Universidad Federal do Estado do Rio de Janeiro. 2012 begann er unter der Regie von Thomas Richards im Forschungsprogramm «Art as Vehicle» des Workcenter of Jerzy Grotowski & Thomas Richards in Pontedera (I) zu arbeiten. Kurse in Ballett & zeitgenössischem Tanz. Nahm am Performativen Opus «The Living Room» unter der Regie von Thomas Richards als Schauspieler teil.
Aufführung / predstava:


18.05.2014 | 19:00 | Jugendstiltheater Klagenfurt/Celovec